Published on: Mar 10, 2017 @ 11:02
June 2016, the Obama Justice Department, and FBI considered a criminal investigation of Trump associates, and perhaps Trump himself, based on concerns about connections to Russian financial institutions.
This is June, last year. Preliminary [investigations by the Obama Justice Department] indicated that there was nothing criminal involved. It's important to remember something here. The FBI has two different kinds of investigations. They do criminal investigations where they go after bad guys, and if they're found guilty, they go to jail or pay a fine. They lose their liberty, lose their freedom. It's criminal. The other thing the FBI does is related to national security, and there's nothing criminal about that.
Extremely Rare FISA Warrant Denial
In mid-June, the Obama Justice Department submitted an application that apparently 'named' Trump in addition to some of his associates. It's "unclear whether 'named' in this context indicates that Trump himself was cited as a person the Justice Department was alleging was a Russian agent whom it wanted to surveil. It could instead mean that Trump's name was merely mentioned in an application that sought to conduct surveillance on other alleged Russian agents.  But guess what? In something of a real rarity — it hardly ever happens — the Foreign Intelligence Surveillance Act court turned down the Obama Justice Department's request." That never happens. The FISA court all… This is one of the criticisms of the FISA court is that it's a rubber stamp.  Meaning, folks, that whatever evidence they presented the court for justifying surveilling Trump was so limited and thin and maybe nonexistent that they were refused their warrant to surveil Trump in June.
June 27th 2016:  Unplanned meeting on a Phoenix tarmac between former President Bill Clinton and Attorney General Lorretta Lynch. We talked about our Grand-kids and golf claimed the former AG Loretta Lynch when asked about the highly inappropriate tarmac meeting with Bill Clinton in Phoenix, AZ.  Anyone who believes this big fat lie, please email me, I have numerous investment opportunities available in Nigeria!
Spoofed Trump Tower Email Server
Domain Registered in July 2016 – Not by Trump
To get the FISA warrant approved there had to be some established link between Russia and the Trump camp.  One of Crooked Hillary's cronies registered a server to establish the link.
---
Breadcrumbs to Substantiate the FISA Warrant and for Future Use
As you will observe from the following obtained from the incredibly fake news site Slate, it showed pings between the Trump Organization, Spectrum Health in Grand Rapids, MI and multiple Russian banks including Alfa Bank.  Interesting to note, Spectrum Health is linked to Betsy DeVos, a Trump donor and current United States Secretary of Education.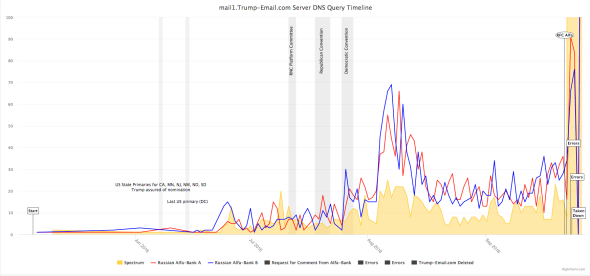 ---
---
October 7th, 2016 – The Podesta Email Dump by Wikileaks
Now, we all know how utterly stupid John Podesta is, as Julian Assange revealed his password for the hacked gmail account was Password.  Really?  This guy is protecting dark secrets of most of the disgusting Democrats and the Fake members of the media.
Oops, Now What?  Blame Russia!
John Podesta immediately released a statement blaming Russia and specifically accusing them of trying to help Trump get elected.
---
End of October FISA Warrant Approved – Drop Some Breadcrumbs
Computer scientists have apparently uncovered a covert server linking the Trump Organization to a Russian-based bank. pic.twitter.com/8f8n9xMzUU

— Hillary Clinton (@HillaryClinton) November 1, 2016
---
November 8th, 2016 – The Supposed Impossible Happens – Trump Wins!
It is not possible that Crooked Clinton destroyed herself by her evil and corrupt actions.  It all Russia's fault!
January 6th, 2017 – GRIZZLY STEPPE – Russian Malicious Cyber Activity – US-CERT
FBI Refused Access to the Hacked Server by the DNC
Instead, the FBI relied on a third party Google linked Crowd Strike to provide information on the hacking signature.  It is reported that Crowd Strike/Google engineers had more than 400 meetings at the Obama White House.
As we recently learned from Wikileaks Vault 7 disclosure, the CIA has the ability to hack anyone, but leave fingerprints that point to a different perpetrator, like say Russia!  By viewing the source code of an email obtained by WordPress CyberSecurity firm WordFence , we could find the name of the malware and the version. It is P.A.S. 3.1.0, which is more than 1 1/2 years old.  Why would Russian State sponsored hackers utilize outdated software?
The founder of a widely utilized antivirus software, John McAfee was one of the first to point out the obvious, the Grizzly Steppe report was nothing more than propaganda!
---
---
---